Best graphics cards 2023: the top gaming GPUs
Our top graphics card picks for 1080p, 1440p, and 4K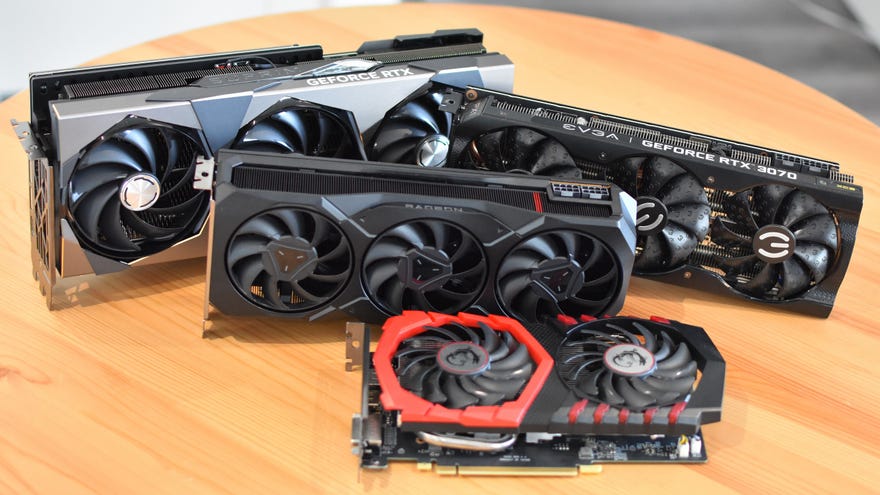 We're now several months into the latest generation of GPUs, which means the status of the best graphics cards is somewhat in flux. Still, credit where it's due – Intel's driver updates have made the Arc A750 a far more appealing prospect than it was at launch, while Nvidia have finally ceased being silly with pricing by launching the RTX 4060 Ti and announcing the RTX 4060 without the same inflation of previous RTX 40 series cards.
So maybe this list isn't as transient as I feared, as it's hard to see (barring some burst of AMD Radeon brilliance) the current-gen GPUs here losing their spots any time soon. Only the RTX 3060 has a direct replacement coming up, and while the Radeon RX 7600 is already available, the RTX 4060 promises to upgrade on its DLSS and ray tracing capabilities with the performance-bolstering power of DLSS 3 frame generation.
Watch on YouTube
It's not a bad time to upgrade your graphics card, either, as plenty of recent games have been pushing older GPUs to breaking point. From Returnal to Star Wars Jedi: Survivor and the upcoming Silent Hill 2 remake, PC system requirements are very much on the up, and failing to keep pace can be punishing on performance.
That's partly why, this year, I've updated the process for how we test graphics cards, replacing some of our older benchmark games with newer and more demanding fare. The models in this list are here because they've impressed in those tests, cementing themselves well and truly as the best – whether it's for affordable 1080p, well-rounded 1440p, or sumptuous 4K.
Just remember that to fully unlock your new graphics card's capabilities, you'll also need a CPU powerful enough to prevent bottlenecking. Our best gaming CPUs guide can help with that, and if you're still in a performance upgradin' mood, check out the best SSDs for cutting load times.
The best graphics cards for gaming
---
Intel Arc A750 Limited Edition
The best cheap 1080p graphics card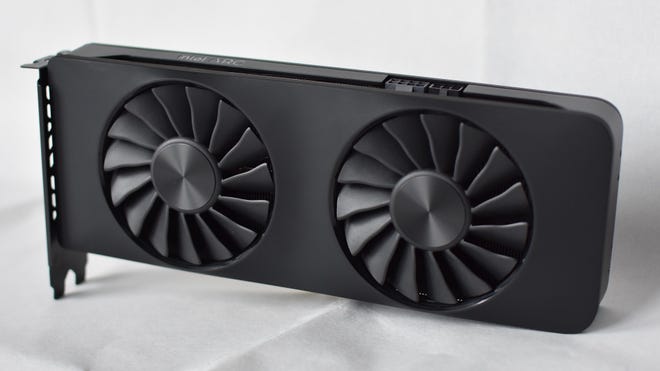 The Intel Arc A750 Limited Edition began life as a middle-whelming GPU, even by budget standards. Fortunately, Intel have pumped so many driver updates into this thing that it now performs significantly better, to the point of overwhelming the RTX 3050 in most of our 1080p gaming benchmarks. If there was a 'Most Improved' category in this list, the Arc A750 would win that as well.
In opting for this over the RTX 3050, you do miss out on DLSS support, owing to Nvidia's upscaler being exclusive to Nvidia graphics cards. But upscaling isn't as useful at 1080p as it is at higher, more demanding monitor resolutions, and even if you're intent on using it when available, the Arc A750 has dual support for Intel XeSS and AMD FSR: two respectable alternatives.
The only real catch, then, is that getting the best performance out of the Arc A750 requires manually enabling Resizeable BAR (or Smart Access Memory on AMD motherboards). With any luck, your mobo might include this as a quick toggle in the BIOS' EZ mode. Just make sure it's switched on before you start playing.
Read more in our Intel Arc A750 Limited Edition review
---
Nvidia GeForce RTX 3060
The best 1080p graphics card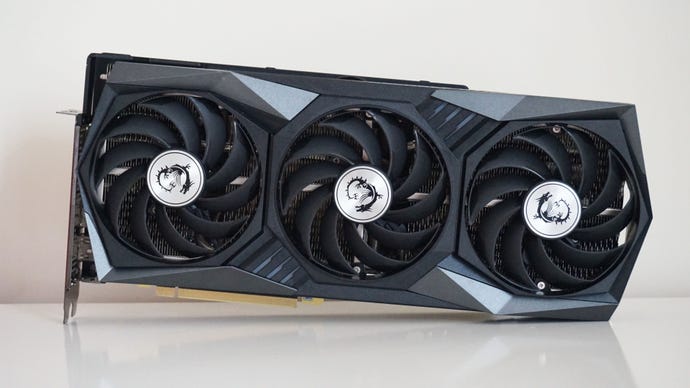 Long-overdue price cuts mean the Nvidia GeForce RTX 3060 is currently your best bet for combining affordability with 1080p performance. You still get DLSS and ray tracing support, and with the latter, you probably won't need to cut as many other quality settings to maintain a good frame rate as you would on the RTX 3050.
At 1920x1080, you can generally expect average framerates to exceed 60fps, even when deploying maxed-out graphical settings. The RTX 3060 even has some 1440p chops, though both the RTX 3060 Ti and the newer RTX 4060 Ti (below) are better equipped for Quad HD duties.
There's also the matter of the RTX 4060, which goes on sale in July 2023. I haven't tested this at the time of writing but it's probably still worth waiting for at this stage, even if it's just to see whether you should stick to the RTX 3060 as a cheaper 1080p alternative.
Read more in our Nvidia GeForce RTX 3060 review
---
Nvidia GeForce RTX 4060 Ti
The best 1440p graphics card
The RTX 4070 also excels at this resolution, though its higher pricing arguably makes it better suited to more premium pursuits. Thus, it's the Nvidia GeForce RTX 4060 Ti that fills the 1440p void. This card sailed through our Quad HD benchmarks on native resolution, and can call upon DLSS in supporting games for an easy boost. Its ray tracing performance is good, too.
One criticism you could level at the RTX 4060 Ti is that its non-ray traced, non-upscaled performance is only moderately higher than that of the RTX 3060 Ti. True, if you already own the last-gen version, it's probably better to wait for the RTX 50 series – but for anyone with a lesser GPU from days gone by, the RTX 4060 Ti likely represents a big step upwards. Especially in games that have worked in DLSS 3, where the newer model can leverage AI frame generation for framerates that the RTX 3060 Ti couldn't achieve in its wildest dreams.
Read more in our Nvidia GeForce RTX 4060 Ti review
---
Nvidia GeForce RTX 4070
The best graphics card for ultrawide gaming monitors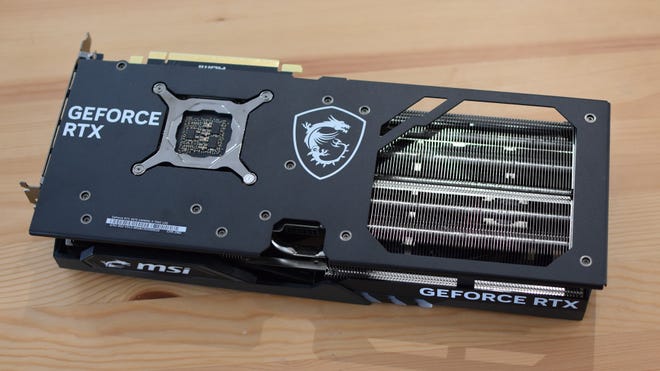 Ultrawide monitors suit the Nvidia GeForce RTX 4070: while the RTX 4060 Ti undercuts it for regular old 2560x1440, the millions of extra pixels that need filling on a 3440x1440 or 5129x1440 display will be a better use of the RTX 4070's power.
And hoo boy, is it powerful: even without DLSS or frame generation, both of which this GPU supports, the RTX 4070 was breathing down the neck of the more expensive RTX 4070 Ti in multiple 1440p and 4K benchmarks. At the latter resolution, which is more demanding than the vast majority of ultrawide rezzes, the RTX 4070 could comfortably average above 60fps at max settings in all but the very toughest games.
It also uses less power than you might think – helpful when it needs to share an electricity bill with a sprawling 21:9 monitor – and copes with the strain of ray tracing very well.
Read more in our Nvidia GeForce RTX 4070 review
---
Nvidia GeForce RTX 4070 Ti
The best graphics card for 4K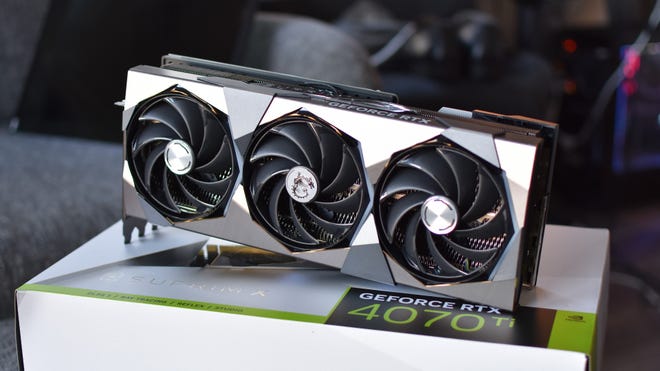 Like the RTX 4080 and the RTX 4090, the Nvidia GeForce RTX 4070 Ti could easily be the biggest investment you've ever made (or will ever make) on a gaming PC component. Unlike those other two GPUs, however, the RTX 4070 Ti's pricing isn't outright ludicrous.
At least, not when compared to the competition, and not when you resign yourself to knowing that a decently futureproofed 4K graphics card will cost plenty anyway. The RTX 4070 Ti is competitive on core performance with the AMD Radeon RX 7900 XT at this resolution, while costing slightly less, and its DLSS 3 support can make a huge difference in the games that support it. It produced smooth framerates in all of our max-quality 4K benchmarks even at native res, and when adding ray tracing to the mix, the RTX 4070 Ti proved far better at absorbing the performance hit than the RX 7900 XT and even the RX 7900 XTX. The RTX 4080 is faster still but with prices starting at £1269 / $1199, I can't honestly say it's worth it.
If you can't quite stretch to the RTX 4070 Ti regardless, the older RTX 3080 is a good, lower-cost alternative. It lacks the RTX 40 series' DLSS 3 support but still has the strength for most 4K games, with or without upscaling. It also has more VRAM than the RTX 4070 Ti, though in testing I've never found 12GB to be as stingy for 4K as some people think.
Read more in our Nvidia GeForce RTX 4070 Ti review
---
Frequently asked questions
Why are some graphics cards so expensive?
If you've tried to buy a new graphics card since about September 2020, you'll know how hard it can be to get hold of one, and how nigh-impossible it is to do so at a fair price. Only now is the market correcting course.
The good news is that graphics cards are no longer as useful to large-scale cryptocurrency mining operations as they once were, so without the demand of miners looking to make a quick, environmentally devasting buck, prices and stock availability have lowered and risen respectively. Some cards, however, are still feeling the effects of a series of manufacturing delays brought about by the Covid-19 pandemic, so we're not completely back to normal yet.
Which graphics cards have ray tracing?
Ray tracing can be a huge upgrade to how your games handle lighting, shadows and reflections, but you need compatible GPU to take advantage of it. Right now, that includes all of Nvidia's RTX 20 series, 30 series, and 40 series GPUs, and AMD's Radeon RX 6000 and RX 7000 cards. On the Nvidia side, that includes everything from the RTX 2060 up to the goliath RTX 4090, while AMD's ray tracing GPU range starts at the RX 6400 and ends at the RX 7900 XTX.
Intel have also released their first Arc graphics cards, bringing with them ray tracing support and Intel XeSS: an upscaling system similar to DLSS and FSR.
Which is better, AMD or Nvidia?
An age old question, the answer to which seems to change with every generation of new GPUs. Right now, Nvidia have a wider range of compelling options across all resolutions, especially now they've started releasing more affordable RTX 40-series models.
In the past, AMD graphics cards have tended to be cheaper than Nvidia equivalents. That kind of went out the window when industry-wide prices went so screwy in 2020, and although AMD's latest flagships – the RX 7900 XT and RX 7900 XTX – have a major price advantage over RTX 4080 and RTX 4090, the arrival of the even cheaper RTX 4070 Ti tipped the 4K market back in Nvidia's favour.
AMD and Nvidia are at least narrowing on features. DLSS produces consistently better-quality upscaling than FSR, but AMD FSR 2.0 (also known simply as FSR 2) makes the differences harder to notice. That said, FSR itself isn't a reason to buy a Radeon card specifically, as it's available on all modern GPUs, Nvidia's including. DLSS does need an RTX card to work, so if you want the best upscaling, there's a much stronger reason to choose Nvidia.