Steam survived the onslaught of players downloading Baldur's Gate 3
The huge RPG couldn't be pre-loaded
Baldur's Gate 3 came out earlier this evening. It couldn't be pre-loaded before launch and having already installed the Early Access version wasn't an alternative, which means a lot of people were trying to download the 122GB RPG at the same time.
Steam held up to the onslaught - mostly.
Steam makes various stats available, including bandwidth used in the past 48 hours. You can see the Baldur's Gate 3-shaped spike from the moment where bandwidth usage leapt from under 20,000Gbps (gigabits per second) to a peak of 146.3Gbps at the moment of release.
At the same moment, Down Detector does show a few hundred reports of Steam outages, suggesting the store was failing to load intermittently for some. Still, the numbers are low considering 459,301 people are playing Baldur's Gate 3 right now according to Steam's stats.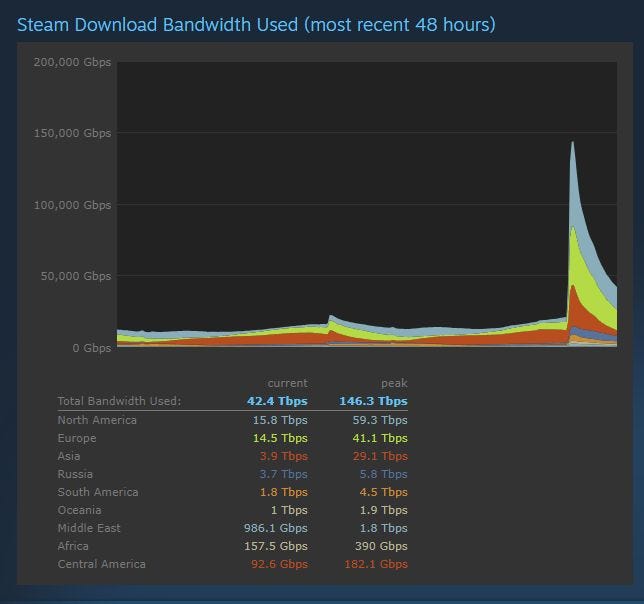 It's pretty rare for Steam to have any downtime at all, and when it parts of it do go offline - as it did back in 2021 - it's not always clear why.
Baldur's Gate 3 wasn't available to reviewers until earlier this week, which means we need more time to bash through a game that's apparently 80+ hours long. We do have a making-of interview with Larian, instructions on how to get the best performance, and a look at how it runs on Steam Deck, however. Plus, our guides team have a guide on how to move that damned scuffed rock.